Summary:Sequin embroidery, also known as bead embroidery, is made of hollow beads, bead tubes, artificial gemstones, flashing se...
Sequin embroidery, also known as bead embroidery, is made of hollow beads, bead tubes, artificial gemstones, flashing sequins, etc., which are embroidered on clothing to produce a dazzling and dazzling effect. It is generally used in stage costumes. In order to increase the beauty and attractiveness of clothing, it is also widely used in shoe uppers, bags, jewelry boxes, etc.
The decorative image of bead embroidery is composed of beads, beads, bead tubes, etc., which are connected by points. , different directions, different bead types, different sheet types, different sizes, and different color changes and color differences, etc., form different levels and produce different decorative effects.
Beaded embroidery is an embroidered ornament floating on the fabric. It has a strong expressive force due to the flashing colors of the beads, beads and bead tubes. Glittering is a major feature of it. Among them, embroidery thread is not the main form of expression, but plays the role of embroidery. In order to achieve a strong flickering effect, silk fabrics or mesh fabrics are generally used. Yanrui's products are rich in substrates, and various sequins have different effects and conditions for refracting colored light.
Yan Rui people make good use of sequins, diamonds and other materials, and make full use of the changes in the bevel and refraction direction of the sequins, so that the sequin embroidery can achieve the best sparkling effect.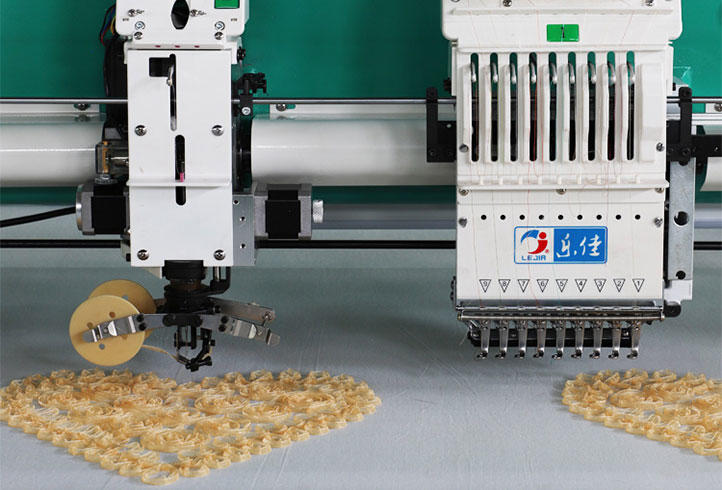 Sequin Embroidery Features:
1) Sequin size: 3mm, 4mm, 5mm, 7mm, 9mm, 3+5mm, 3+9mm, etc.;
2) The shape of the beads: round flat, rectangular, round concave, square concave, eccentric, diamond, five-leaf plum blossom, six-leaf plum blossom, copper coin, large ring (sling), melon seed and oval film series, etc.;
3) Base fabric: mesh, knitted fabric, lace, satin, chiffon, organza, cotton, T/C, etc.;
4) Effective door width: CM, can also be made according to customer needs;
5) Process: single sequin, double sequin, embroidery in various colors, can also be customized according to customer samples;
6) Uses: make all kinds of fashion, stage wear, women's dresses, women's skirts, clothing decoration dressings, cushions, home textiles, shoe and hat dressings, bags, etc., with rich patterns and wide uses;
7) Delivery time: according to the customer's order quantity;
8) Packaging: as per customer requirements.