Summary:Try re-threading. When re-threading, use your hand to pull the computerized embroidery thread to ensure that the embroid...
Try re-threading. When re-threading, use your hand to pull the computerized embroidery thread to ensure that the embroidery thread is tightened everywhere, and there will be no slight slack or loops anywhere. Then, before you start embroidering:
If your embroidery thread support is placed horizontally, make sure that the embroidery thread does not slip off the spool-for safety, use the spool clip (a small plastic cap) that comes with the machine.
Make sure that the embroidery thread never winds up or hits the embroidery thread holder. If your embroidery thread can be touched somewhere-it must be broken.
Make sure that the embroidery thread does not touch the side of the thread tube. This often happens when using a small "mushroom" type thread tube (usually packaged in 275 yards). This is the moment when the embroidery thread is loosened from the thread tube, the "mushroom" side hangs the embroidery thread so that it cannot be loosened smoothly. Naturally, the thread breaks. This is why many embroidery factories hate to use small thread tubes. This is a good reason.
(The "mushroom" type wire tube is what we usually call the "horn" type wire tube)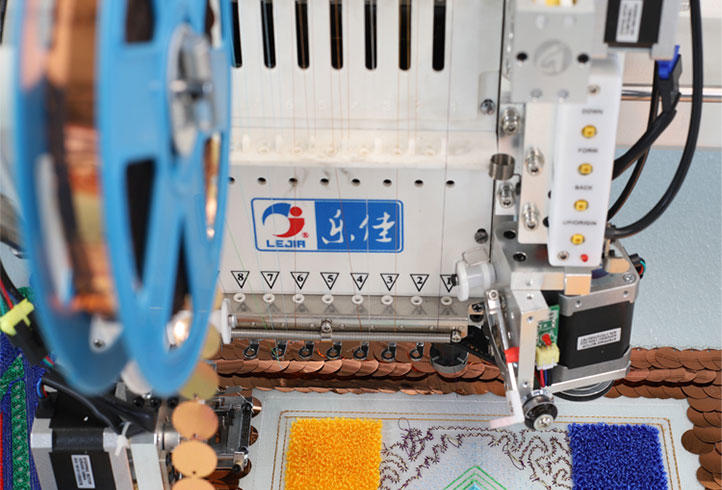 There are two methods to choose from to solve this problem:
Avoid using small "mushroom" type wire tubes. If possible, buy the easy-to-use package size, that is, the economical package-1100 yards/piece, they will never have such annoying "mushroom" edges.
If you already have some thread for small spools and decide to use them-try using a vertical thread support and loosen the upper thread a bit. You can also use separate wire supports, if you have one. This can help you to supply the wire well and avoid friction with the edge of the plastic wire tube.
If your equipment does not have a vertical thread support, and you do not have a thread stand-consider buying embroidery thread with ordinary thread tubes. Because the spool will cost you $50-$100, and with this money, you can buy a lot of embroidered threads packed in really good spools.
Make sure your embroidery needle is suitable for your computer embroidery. The usual 40wt rayon computerized embroidery thread and the embroidery needle of 80/12 polyester computerized embroidery thread can generally work well. And if you use gold and silver thread or thick upper thread-try alloy embroidery needles. They have larger needle holes and are usually covered with Teflon so that the thick computer embroidery thread can move smoothly.
Hold the thread end of the computerized embroidery thread in your hand, tear off a few meters, and feel with your fingers that the embroidery thread should be smooth and not obstructed or knotted. If this is not the case-try to pull more embroidery thread, maybe there is only a flaw somewhere on the tube. If it's still not good after you tear it down a few meters-put it aside and use the other one again.
If none of the above methods work and you have no other thread to replace-try lowering the tension of the upper thread. Your computerized embroidery machine manual will tell you how to adjust the tension.