Summary: Sequin/Beads Embroiderer Machine series by Lejia is one of the famous brands of sequin/beads embroidery machine. It is...
Sequin/Beads Embroiderer Machine series by Lejia is one of the famous brands of sequin/beads embroidery machine. It is known for its quality designs and styles. It offers a variety of stitches, thread, stitches types and sizes for a variety of projects. The features and the quality of this machine make it a perfect choice for all your sequin/bead work.
This machine offers several stitches types like chain/rope, double-sided stitching, full-set embroiderY, gapped stitches, single-sided embroiderY, tabbing, quilting thread, spool threads, spun thread, tuck thread, fringe threads, crochet, fat back, and solid backs. It also features full thread locking feature to avoid any loss of thread during the process of embroiderY stitches. The sequin/beads embroidery works perfectly on different thread configurations such as light/heavy, regular, and light/heavy-weight. It can be easily upgraded to accommodate the latest technology in the field of embroidery threading. The machine works well with a computer-assisted design or CAD software.
The sequin/beads embroidery works best for the new and simple designs. It enables you to produce fine arts-quality embroidered product with minimum efforts. It is a cost-effective and time-saving option to embroider exquisite textiles and garments. The features of this machine make it most suitable for home users as well. You just need to operate the machine and stitch the thread by yourself.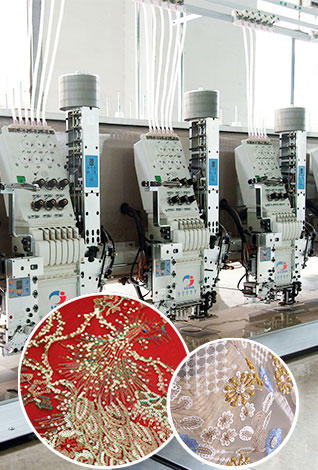 As you start working with this machine, you will immediately appreciate the quality of work and beautiful result it can produce. It has many advanced stitches that are designed to meet the exact requirements of every client. The stitches used in this machine are very precise and accurate to bring out attractive embroidered product. It requires only few tools to operate, which include facility to change stitch types. It has soft thread for embroiderY stitches that help to stretch the fabric easily.
In case you are wondering about the assembly process of this machine, here is an easy overview. The main body of this machine is made of metal tracks that run along the shaft. Sewing thread and needle come into two separate compartments. Once you insert the needle into the appropriate compartment, the pull handle of the machine starts moving. Now, you have to align the head of the sequin/beads embroidery machine onto the tracks, by using the right foot of the machine.
A similar process takes place when the machine needs to lift the needle out of the track. Now, all that is left is to slide the foot of the machine over the needle, which releases the stitches. The complete process is completed by tightening the foot and locking the wheels at the back of the machine. It is now ready for use.